Checked Baggage
Baggage restrictions and advice to follow.

≪Regarding checking of portable electronic devices containing lithium-ion batteries≫

Before checking your devices, make sure to turn off the main power switches. We cannot accept devices in sleep mode or on standby.
Store devices in durable suitcases and protect devices with clothes, etc. to prevent the power from being turned on accidentally, and to protect the devices from scratches.
Checked Baggage

Please check in your baggage no later than 20 minutes prior to flight departure.
If you have any baggage to check in, please check them in at the counter and proceed through the security checkpoint no later than 15 minutes prior to your flight's scheduled departure time.
Since airports may be crowded with travelers during summer vacations and long holiday weekends (such as consecutive holidays and New Year holidays), we recommend that passengers check in baggage no later than 30 minutes prior to flight departure.
Baggage accepted at no charge
We allow passengers to check in bags up to 50 cm x 60 cm x 120 cm in size, with a maximum combined weight of 20 kg for all bags.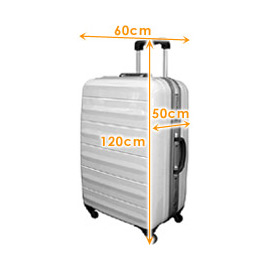 Size restrictions

Number of pieces

Weight
*

We will accept skis and surfboards as checked baggage providing they do not exceed the maximum length of 280cm.
Limits on accepted baggage
Baggage over 20kg, not exceeding 100kg

Over 20kg, not exceeding 100kg
*Maximum weight per piece limited to 32kg
charge JPY1,000- per 10kg

Baggage exceeding 100kg

Baggage exceeding 100kg or 280cm
May not be checked in
Baggage in excess of size restriction may not be accepted for loading if the cargo space of the aircraft is limited. Please be aware that you may arrange package delivery service by yourself if your baggage cannot be checked in.
Wheelchairs for the passenger's own use (including electronic wheelchair), strollers, baby-carrying baskets and child safety seats are not included as checked baggage total weight and you can check them in free of charge.
*

We do not accept checked baggage with expensive or valuable items, fragile items such as glass or bottles, or items prone to leakage. Please carry these items with you onto the aircraft. Click here for information on other items.
Limits on accepted wheelchair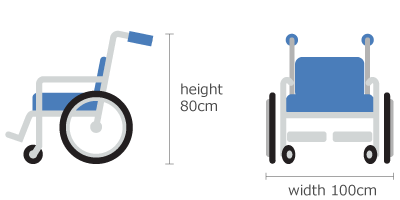 Size

Within

height 80cm×width 100cm

Weight