Cabin baggage
Restrictions are imposed on baggage that can be carried into the cabin. Please check the baggage storage method in advance.
Restricted carry-on items
For security reasons, please note that it is prohibited to carry dangerous articles into the cabin.
Knives / Scissors
Sharp-edged items / Bats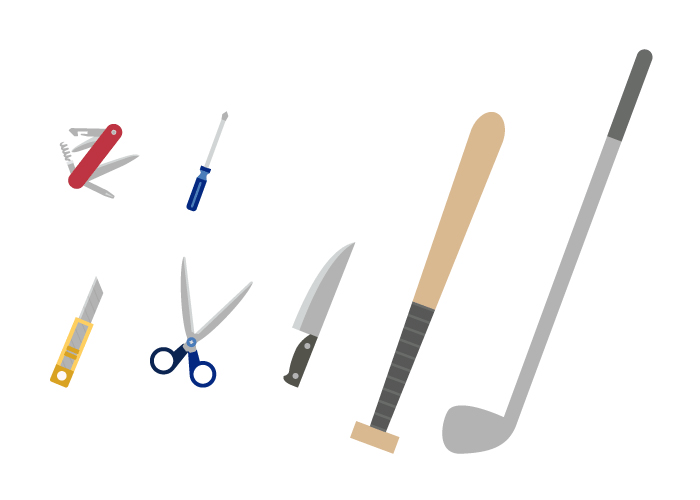 For details regarding the dangerous articles which may not brought onto the plane as carry-on or checked baggage.
Size of carry-on items
In addition to personal belongings (handbags, camera, umbrellas, etc.), the following baggage can be brought into the cabin. The total weight should be within 10kg.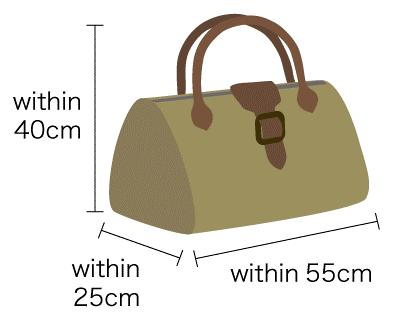 Size
55cm×40cm×25cm
The total
Dimension: 115cm or less
Number
One Item
Please note that even if your carry-on baggage is within the above dimensions, baggage that cannot be securely stowed in the cabin will not be accepted at the boarding gate or on board, resulting in them being stored as checked baggage and placed in the cargo compartment. We would appreciate your understanding.
The size of your baggage will be checked at security inspection. Oversized baggage will not be able to be inspected. Please entrust it at the baggage counter before security inspection.
Correct baggage storage method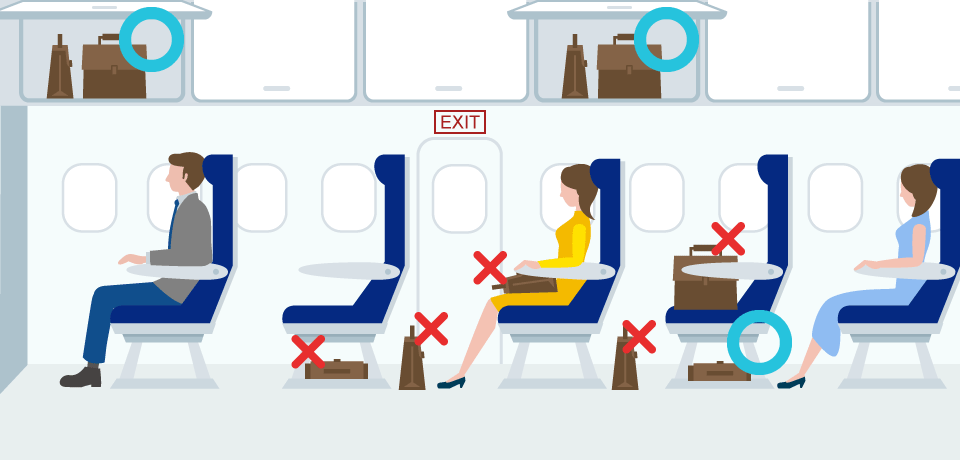 Please place your carry-on baggage either under the seat in front of you or in the overhead lockers.
When placing baggage in the overhead lockers, please make sure it will not fall out when the door is opened.
Please store any other baggages under the seat in front of you. If it's not stored correctly, it may become displaced during turbulence or vibrations, and injure either yourself or another customer.
Displaced baggage can also block the escape route.
For customers sitting in the front row or in emergency exit seats
Please place all of your carry-on baggage in the overhead lockers.
In case of emergency
Please follow the crew instructions and do not bring out any baggage that may impede emergency escape.