Unacceptable behavior
About acts that hinder safety (unacceptable in-flight behavior)
To ensure a safe and comfortable trip for our customers, the following acts have been prescribed in the Civil Aeronautics Act as acts that hinder safety, and are therefore prohibited.
(1)

Endangering aircraft safety

(2)

Threatening other passengers or belongings on the aircraft

(3)

Disturbing order on the aircraft

(4)

Violating discipline on the aircraft

*

In any other cases in which we have reasonable grounds to believe that passengers have committed such behavior
Prohibited acts that are against the law
We have been faced with the change of common sense and rules of the world with the times.
(Generalization of aircraft use, non-smoking in all seats, increasing of mobile phones use, etc.)
Therefore, acts that are prohibited by law in the cabin are increasing.
To ensure a safe and comfortable flight for passengers on board, the law that prevents acts that are in violation of laws prohibited in the cabin has been in force since January 15, 2004.
In spite of being ordered to stop from the PIC, if you repeat or repeat the following actions, a fine of 500,000 yen or less may be imposed.
1.

Operating exit doors, etc.

It is extremely dangerous to operate handles and switches for opening and closing exit doors without the instruction of the cabin crew.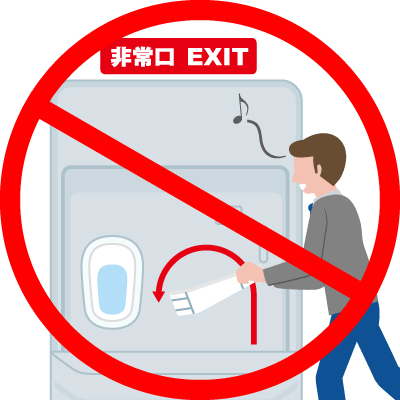 2.

Smoking in the restroom Smoking is prohibited at all times on board.

Smoking, especially in the restrooms, may cause a fire.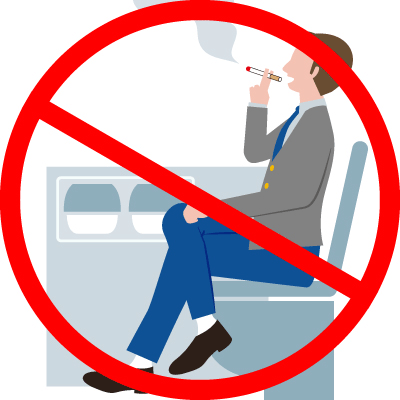 3.

Obstructing crew duties

For security reasons, obstructing cabin crew duties by using abusive language, threatening behavior, or sexual harassment due to excessive alcohol consumption or for any other reason is prohibited.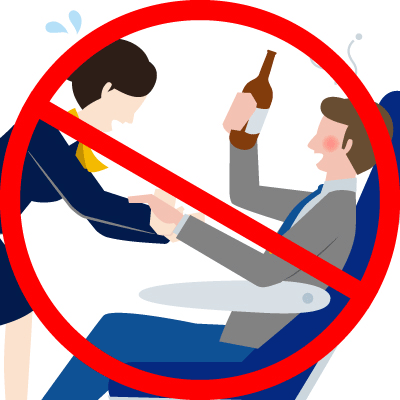 4.

Using electronic devices that emit radio waves when their use is prohibited.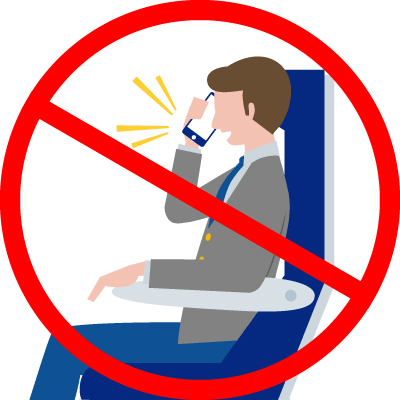 5.

Refusing to fasten seat belts

If you are thrown from your seat due to sudden turbulence, may result in injury to you or other surrounding passengers.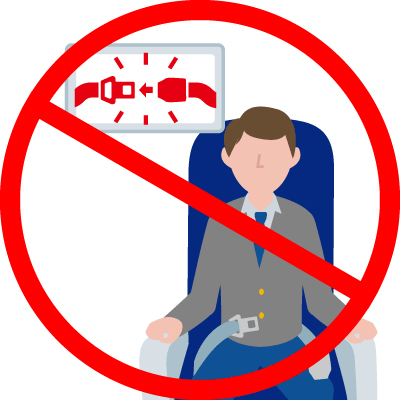 6.

Refusing to return the seat back to their upright and locked position.

If you do not return the seat back and other installations to their upright and locked position, it could impede emergency evacuation attempts.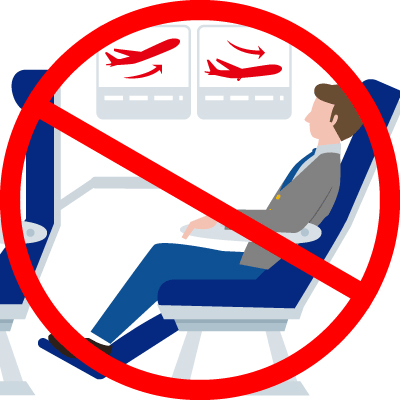 7.

Placing and refusing to move carry-on baggage in the aisle

Carry-on baggage placed in the aisle may be scattered by sudden movement of the aircraft, and can be dangerous. They may also impede emergency evacuation attempts.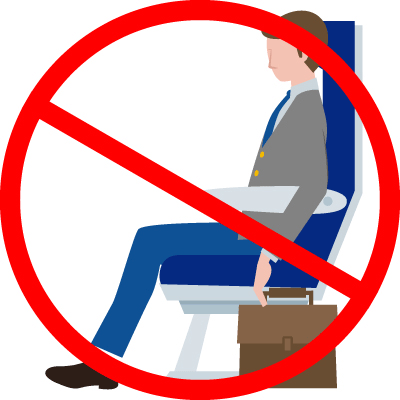 8.

Inappropriately using emergency equipment(*)

The use of emergency equipment, such as fire extinguishers, life jackets, and other apparatus, is strictly prohibited unless you are instructed to do so by the flight crew in an emergency.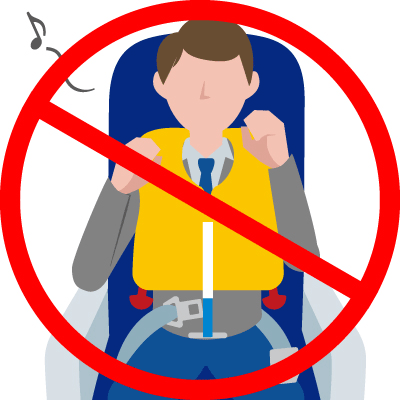 (*)

First aid tools set under the laws (emergency signal lights, waterproof lights, life jackets, or other first aid tools having the equivalent function of life jackets, lifeboats, first aid kits, emergency food, emergency aviation radios, and emergency floats), fire extinguishers, alarm apparatus, smoke detectors, portable oxygen bottles, oxygen masks, on-board loudspeakers, and smoke hoods
In the event of disruptive behavior
Skymark Airlines will take action against disruptive behavior by means of oral direction, issuance of warning statements, refusal of boarding, disembarkation, and other methods. In addition, if such behavior persists, we may take the following steps as necessary in accordance with the laws and Conditions of Carriage.
(1)

Returning to the departure airport or emergency landing at the nearest airport

(2)

Reporting to law enforcement authorities and requesting on call assistance to resolve the problem

(3)

Taking passengers into custody
We will ask for payment of expenses for losses that we have incurred due to disruptive behavior.